Need a quote of granite products?
Durable, long-lasting, easy to work, impressive – these characteristics make granite a popular choice in construction. Granite stairs, both indoor and outdoor, ideally emphasize the beauty of the household ad beautifully combine with the arrangement setting an exceptional character. Granite stairs are ideal for private housings and office or industrial buildings.
Granite steps – durability and esthetics
What distinguishes granite stairs is above all durability and resistance to weather conditions. Granite steps are resistant to long exposure to humidity and water, changing temperatures, frost, and sun exposure. A rich array of colors available in our offer enables to harmonize them with any design of the building. Long-lasting exposure of the above-mentioned factors does not make any changes to the material.
Indoor granite stairs are offered to customers looking for high quality and timeless solutions which will always present well in spite of changing trends. Similar to outdoor granite stairs, the color and arrangement can be adjusted to a specific interior making it look luxurious.
Granite stairs are especially suitable for office buildings, commercial areas, cultural or other public buildings. Such places are exploited heavily due to intensive human traffic.
Indoor granite stairs can also adorn a hall or a large living room. Each project can be individually matched with the interior.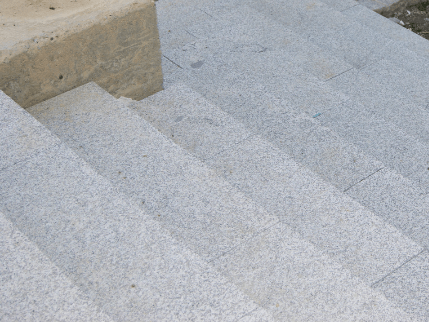 Indoor and outdoor granite stairs
The most important feature of the solutions we offer is completeness. This enables their use in various places and thanks to a wide range of shapes and steps they can be easily matched to any facade or room. Moreover, granite stairs are an excellent long-lasting investment due to damage resistance while maintaining high esthetics. As specialists in the field of granite construction we take care of the most complicated orders from our customers where limits do not exist. Our projects can be admired in many places locally in Poland and make sure they have all characteristics which we claim they do.
We ensure a possibility of matching shapes, sizes and colors of the stairs to individual requirements. We make both simple and complex projects such as arched stairs or winder stairs depending on the need. We guarantee comprehensive customer care, starting with measurement, through assembly to finishing. We strive to provide you with granite stairs of your dreams.